Featured
Published on 4th July 2015
Steve Hackett – Premonitions: The Charisma Years (1975-1983)
Universal Music Group has announced a 14-Disc-Boxset of Steve Hackett which will cover his time with Charisma Records between 1975-83, called Premonitions: The Charisma Years.
Included are the first six Steve Hackett albums, from Voyage of the Acolyte to Highly Strung. Steven Wilson has done new 5.1 mixes of the first four albums. Two of these new mixes (Please Don't Touch and Spectral Mornings) are mixed into discrete surround sound from the multi-tracks, but the multi-track tapes for the other two albums (Voyage of the Acolyte and Defector) could not be located. These albums were up-mixed from the stereo masters.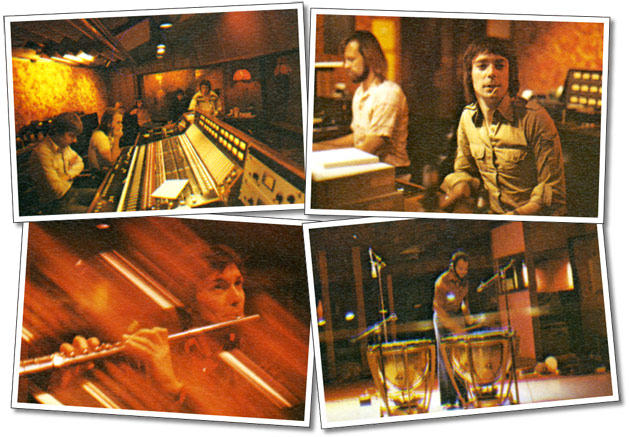 In addition, there are two CDs with new stereo mixes (Please Don't Touch and Spectral Mornings). These have been made since new mixes have been created from the multi-tracks anyway. New stereo mixes for Cured and Highly Strung have not been made, since the multi-tracks are unavailable.
This box set will also include various live recordings: The Oxford show in it's entirety over two CDs, both Reading 1981 and Drury Lane 1979, as well as the BBC session from 1983. And there will be a booklet with extensive liner notes and photographs.
SOURCES: Genesis News | The Publicity Connection
Disc 1 [CD] – Voyage Of The Acolyte / Please Don't Touch
01. Ace Of Wands
02. Hands Of The Priestess – Part One
03. Tower Struck Down
04. Hands Of The Priestess – Part Two
05. The Hermit
06. Star Of Sirius
07. Lovers
08. Shadow Of The Heirophant (Extended Version)
09. Narnia
10. Carry On Up The Vicarage
11. Racing In A
12. Kim
13. How Can I?
14. Seven Of Cups* (Bonus Track)
Disc 2 [CD] – Please Don't Touch (II) / Spectral Mornings / Defector
01. Hoping Love Will Last
02. Land Of A Thousand Autumns
03. Please Don't Touch
04. Voice Of Necam
05. Icarus Ascending
06. Every Day
07. Virgin And The Gypsy
08. Red Flower Of Tachai Blooms Everywhere
09. Clocks – Angel Of Mons
10. Ballad Of The Decomposing Man
11. Lost Time In Cordoba
12. Tigermoth
13. Spectral Mornings
14. Steppes
15. Time To Get Out
16. Slogans
17. Leaving
18. Two Vamps As Guests
Disc 3 [CD] – Defector/Cured
01. Jacuzzi
02. Hammer In The Sand
03. Toast
04. Show
05. Sentimental Institution
06. Hercules Unchained (Bonus Track)
07. Hope I Don't Wake
08. Picture Postcard
09. Can't Let Go
10. Air Conditioned Nightmare
11. Funny Feeling
12. Cradle Of Swans
13. Overnight Sleeper
14. Turn Back Time
15. Tales Of The Riverbank (Bonus Track)
16. Second Chance (Bonus Track)
Disc 4 [CD] – Highly Strung
01. Camino Royale
02. Cell 151
03. Always Somewhere Else
04. Walk Through Walls
05. Give It Away
06. Weightless
07. Group Therapy
08. India Rubber Man
09. Hackett To Pieces
10. Guitar Boogie (Bonus Track)
11. Time Lapse At Milton Keynes (Bonus Track)
12. Walking Through Walls (12″ Single Version) (Bonus Track)
13. Cell 151 (BBC Session 04/1983)* (Bonus Track)
14. Walking Through Walls (BBC Session 04/1983)* (Bonus Track)
15. Hackett To Pieces (BBC Session 04/1983)* (Bonus Track)
16. Please Don't Touch (BBC Session 04/1983)* (Bonus Track)
Disc 5 [CD] – Live In Oxford* (New Theatre, 01/07/1979)
01. Please Don't Touch
02. Tigermoth
03. Every Day
04. Narnia
05. Red Flower Of Tachai Blooms Everywhere
06. Ace Of Wands
07. Carry On Up The Vicarage
08. Acoustic Medley: Etude In A Minor / Blood On The Rooftops / Horizons / Kim
Disc 6 [CD] – Live In Oxford* (New Theatre, 01/07/1979)
01. Optigan / Tower Struck Down
02. Spectral Mornings
03. Star Of Sirius
04. Shadow Of The Heirophant
05. Clocks
06. I Know What I Like
07. Racing In A
Disc 7 [CD] – Live In London (Theatre Royal Dury Lane, 11/11/1979)
01. Land Of Thousand Autumns/Please Don't Touch
02. Tigermoth*
03. Every Day*
04. Ace Of Wands
05. Sentimental Institution
06. Red Flower Of Tachai Blooms Everywhere*
07. Spectral Mornings*
08. Clocks*
09. Acoustic Medley*: Etude In A Minor / Blood On The Rooftops / Horizons / Kim
Disc 8 [CD] – Live At The Reading Festival (28/08/1981)
01. Air Conditioned Nightmare
02. Every Day*
03. Ace Of Wands*
04. Funny Feeling*
05. Steppes
06. Over Night Sleeper*
07. Slogans
08. Tower Struck Down*
09. Spectral Mornings*
10. Show*
11. Clocks
Disc 9 [CD] – Please Don't Touch (New Stereo Mix by Steven Wilson)*
01. Narnia
02. Carry On Up The Vicarage
03. Racing In A
04. Kim
05. How Can I?
06. Hoping Love Will Last
07. Land Of A Thousand Autumns
08. Please Don't Touch
09. Voice Of Necam
10. Icarus Ascending
Disc 10 [CD] – Spectral Mornings (New Stereo Mix by Steven Wilson)*
01. Every Day
02. The Virgin And The Gypsy
03. Red Flower Of Tachai Blooms Everywhere
04. Clocks – Angel Of Mons
05. Ballad Of The Decomposing Man
06. Lost Time In Cordoba
07. Tigermoth
08. Spectral Mornings
Disc 11 [DVD] – Please Don't Touch (New 5.1 Surround Sound Mix by Steven Wilson)*
01. Narnia
02. Carry On Up The Vicarage
03. Racing In A
04. Kim
05. How Can I?
06. Hoping Love Will Last
07. Land Of A Thousand Autumns
08. Please Don't Touch
09. Voice Of Necam
10. Icarus Ascending
11. How Can I? [1977 Charisma Promotional Film] (Bonus Video Track)
Disc 12 [DVD] – Spectral Mornings (New 5.1 Surround Sound Mix by Steven Wilson)*
01. Every Day
02. Virgin And The Gypsy
03. Red Flower Of Tachai Blooms Everywhere
04. Clocks – Angel Of Mons
05. Ballad Of The Decomposing Man
06. Lost Time In Cordoba
07. Tigermoth
08. Spectral Mornings
09. Clocks [1979 Charisma Promotional Film] (Bonus Video Track)
Disc 13 [DVD] – Voyage Of The Acolyte (New 5.1 Mix by Steven Wilson)
01. Ace Of Wands
02. Hands Of The Priestess – Part One
03. Tower Struck Down
04. Hands Of The Priestess – Part Two
05. Hermit
06. Star Of Sirius
07. Lovers
08. Shadow Of The Hierophant (Extended Version)
Disc 14 [DVD] – Defector (New 5.1 Mix by Steven Wilson)*
01. Steppes
02. Time To Get Out
03. Slogans
04. Leaving
05. Two Vamps As Guests
06. Jacuzzi
07. Hammer In The Sand
08. Toast
09. Show
10. Sentimental Institution
UK tour dates for October 2015 to celebrate the 40th anniversary of the release of Voyage Of The Acolyte and to promote his recent solo album, Wolflight can be found in the TPA UK Gig Guide. All tour dates can be found on HERE on the Hackett Songs website